This post was sponsored by Lowe's Home Improvement . All of the opinions of my elegant closet organizer, and other Lowe's products, are my own.
Every girl dreams of having a fabulous closet, am I right? I've been dreaming of updating mine since we moved into this house four years ago. We finally gave my closet a gorgeous makeover and I get to share it with you!
There were so many issues with my old closet I can't believe I survived with it for as long as I did.  Where do I start? This picture says it all. It is small, the organizer was installed oddly, and pieces of it were missing. The top rack was so high I couldn't reach it. Hangers wouldn't slide on the plastic pieces.
See that part on the bottom left? If I hung any clothes on it, they would slip off when you tried to move the clothes.  Most importantly it was just plain ugly. This was NOT a girls dream closet.
Besides the fact that the closet had a useless layout, the sliding doors made it hard to get to anything by blocking half the closet when it was open.

The closet is in my master bathroom, so there is no easy way to expand it. I needed to find a way to make it better with a closet organizer. This is what I wanted to achieve with this project:
Closet Makeover Goals
Increase Hanging Bar Space
Separate Hanging Space by Clothing Type
Add Shelving for Clothes and Accessories
Add Shoe Compartments
Improve Accessibility
Paint
In addition to all of the storage I needed, I really wanted a closet system that looked like a custom piece of furniture. I chose this Allen & Roth organizer from Lowe's Home Improvement. 
My closet is a little smaller than this organizer, but it was the prettiest one and Mike said it would be simple to modify. YAY!
Mike recommended bi-fold doors to improve access to the closet. If we kept the sliding doors then we couldn't use the tower in the middle of the closet because the doors would block it.
At first I was really against it, because I was picturing the old-fashioned bi-fold doors of the 70's. Then I found these Masonite Heritage Bi-Fold doors and I loved them! The Allen & Roth closet organizer was in stock at the store and these custom doors took about two weeks to be delivered.

To get ready for the installation we removed the old wire shelves leaving lots of holes 🙁
Then, Mike patched all the holes and sanded the walls in preparation for painting.
I was going to paint the closet gray but I saw this color and just had to have it!♥ This color is Oceanside SW 6496 mixed in Sherwin Williams Showcase Flat paint from Lowe's.

The paint had primer in it to help cover the drywall patching. It covered really well with two coats. We always use flat paint, because I am not a fan of shiny paint.

This contact paper matches the paint perfectly, so I picked it up to put on the back of the two shelves.
Using this contact paper was SO easy. I was a bit worried about lining the pattern up. It helps to have someone hold the other end of the paper while you line it up but you can also pull it right off if you don't get it right the first time. We put it on before Mike assembled the tower.
After we put it on we smoothed it with a plastic putty knife to get the bubbles out.
Then,we used an exacto knife to cut the edge. Mike used the level to make sure we cut it straight.
Assembling and installing the Allen & Roth Closet organizer only took Mike about two hours, and that includes making modifications for my small closet.
In order to fit the Allen & Roth organizer into the closet Mike had to cut the rod and top shelves shorter. He was able to hang two pieces of rod on each side of the tower so I got 72 inches of closet bar!!! I only had about 50 in my old closet. He easily cut the bars shorter with a hacksaw.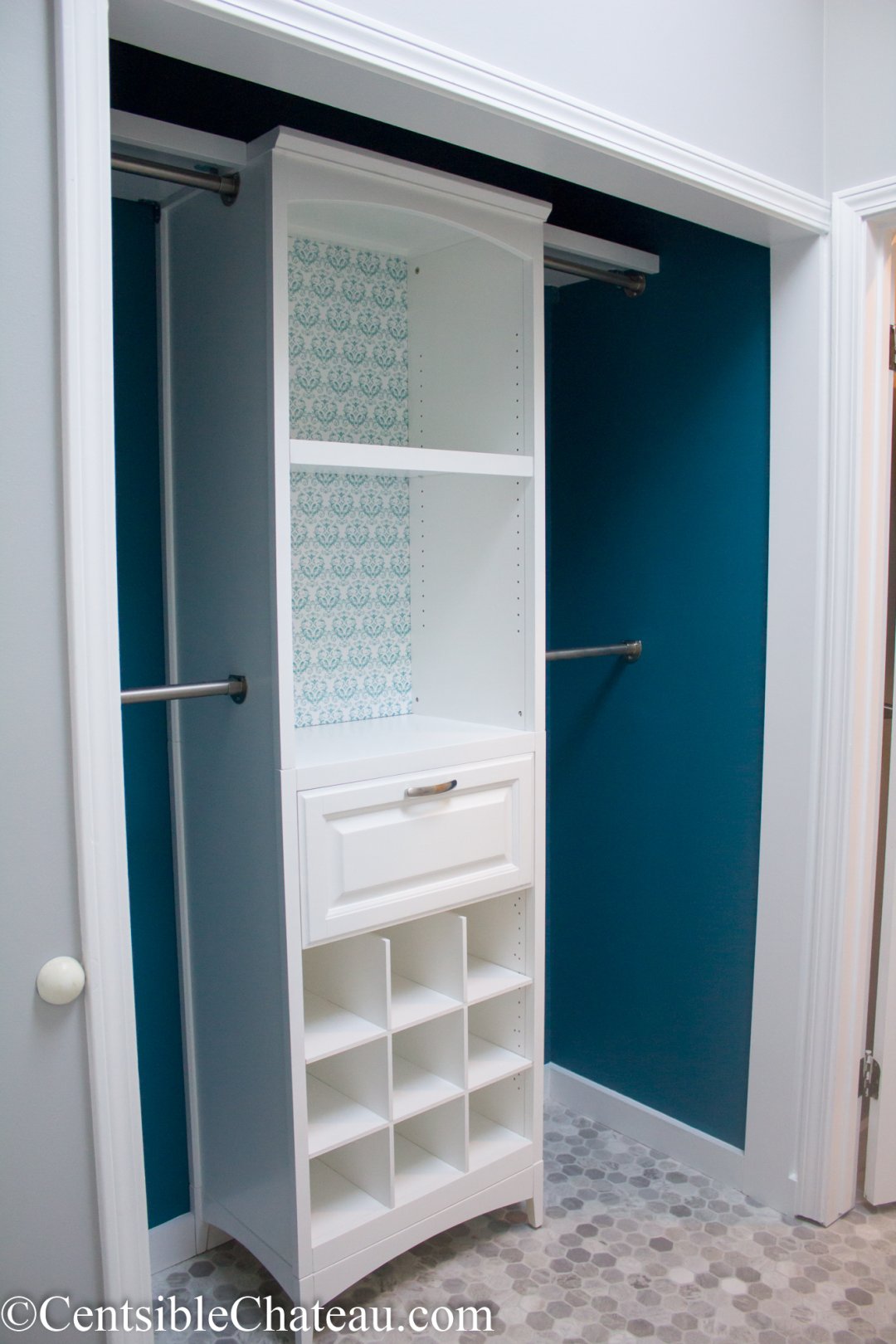 I love how the tower looks like furniture and has crown molding at the top.
The only additional piece we bought was the Allen & Roth white pedestal stand for the bottom. It wasn't very much extra money and it really makes the tower look like furniture.
Since space is limited I wanted to find some thinner hangers. I found these Joy Mangano huggable hangers at Lowe's. They are thin and velvet so my clothes don't fall off of them.
To give you an idea of how slim these hangers are, here are 40 of them hanging with tons of room to spare! I will able to fit far more clothes in the closet using these.
The bars can be hung any height so Mike was able to adjust them to fit my pants, dresses and shirts. If you have a lot of long dresses you could leave one bottom bar off to hang them. I can remove that bar any time if I change my mind and want to hang maxi dresses there. Since I have mostly business dresses  this configuration is perfect for me.
The Reveal
So, here it is! My gorgeous feminine dream closet. I just <3 it!
There is a ton of room on the two middle shelves for sweaters, jeans and accessories. More shelving can easily be added with the peg holes that are already drilled.  The top shelf is great for off-season clothes or other storage that you don't need to access daily. 
There are nine shoe holes in the tower and if you have smaller feet like I do, you can actually fit 18 pairs of shoes in them! The drawer is perfect for scarves, socks and more!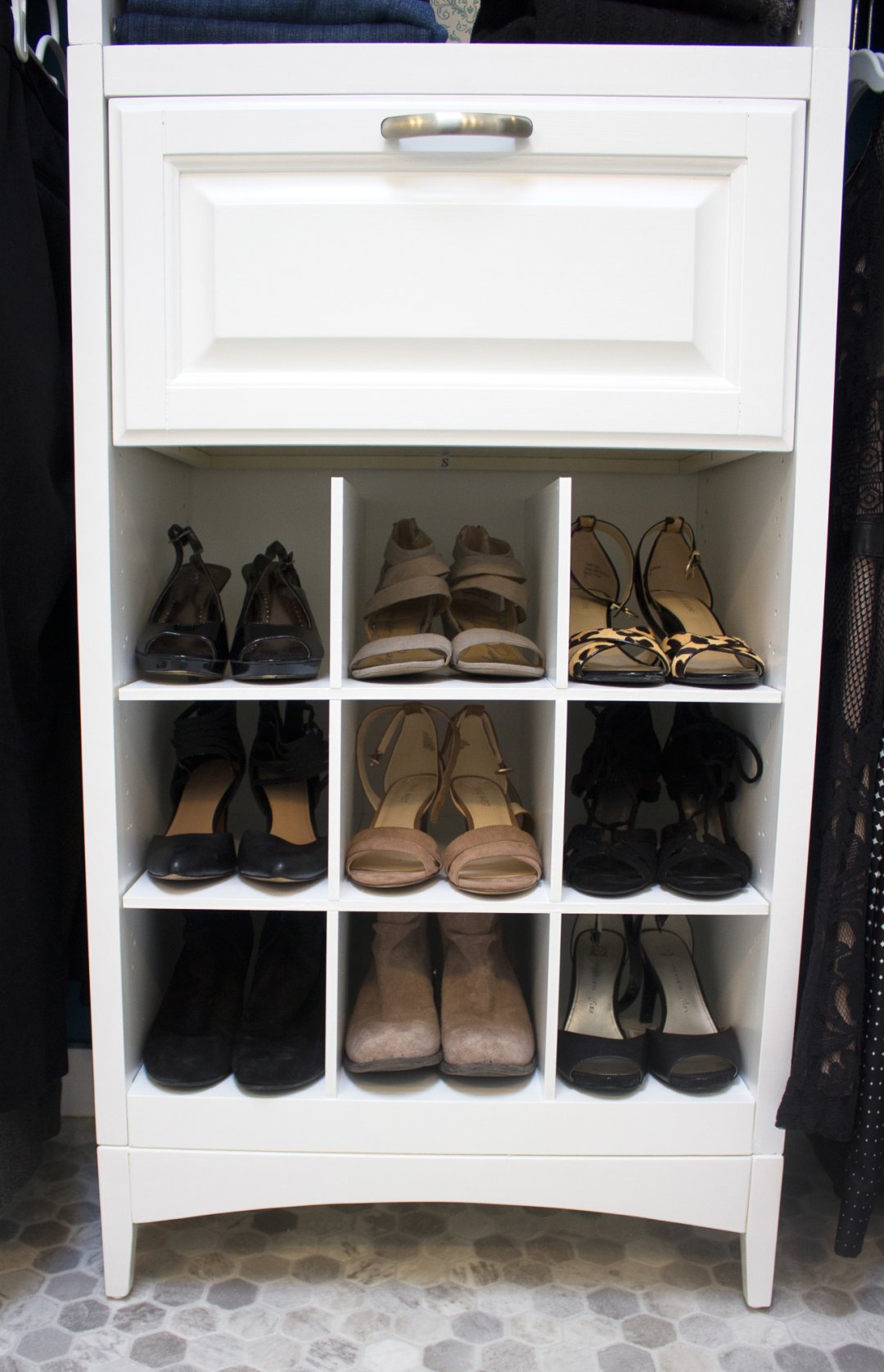 For a small closet I really have a ton of hanging space now. Plus the hangers will slide, instead of getting stuck, so I can see all my clothes easily.
This  closet kit is exactly what I needed to create the elegant, feminine closet I was hoping for. The Oceanside blue color is the perfect compliment to the white.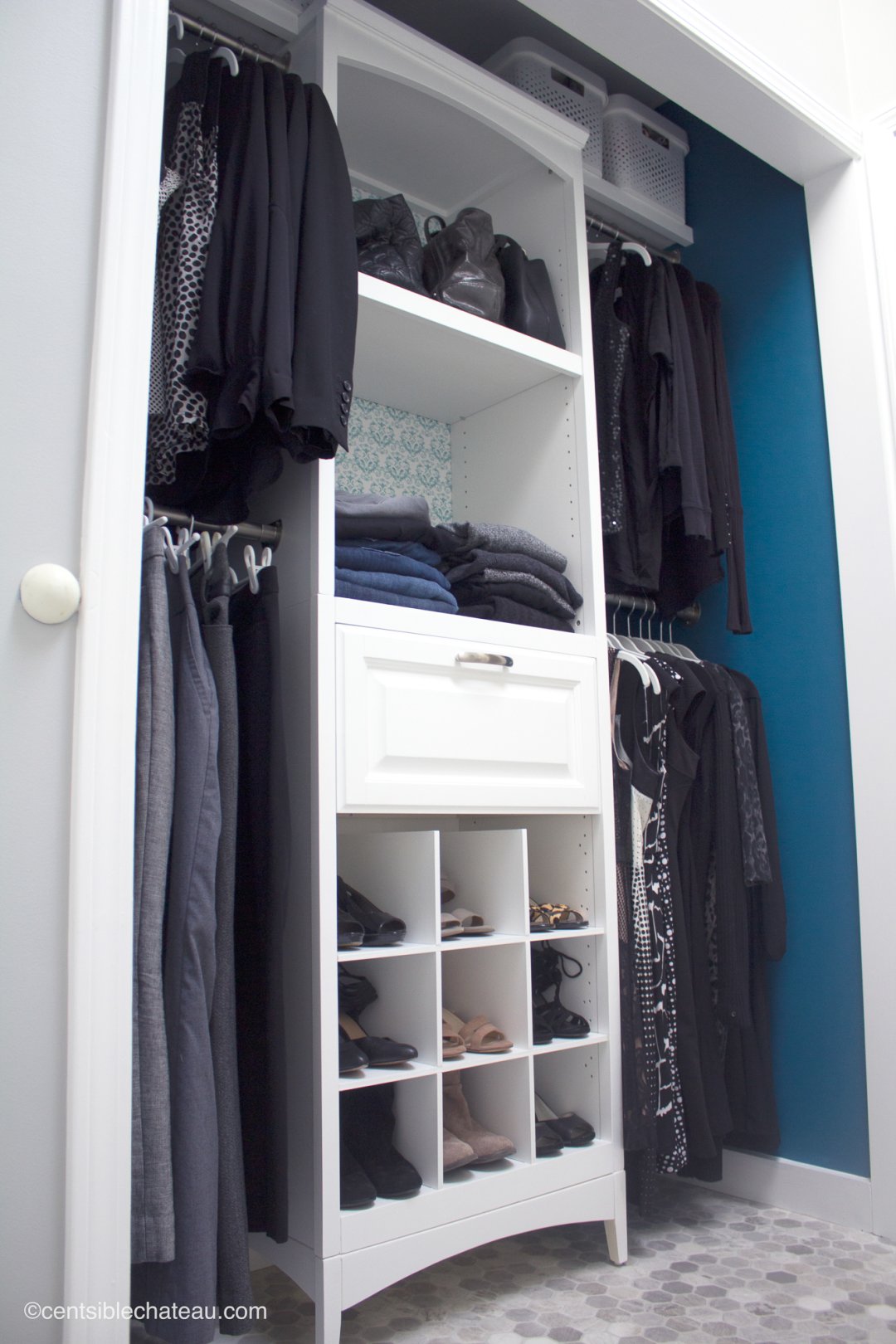 The Masonite Heritage Bi-Fold Doors are stunning and provide easy access to the entire closet. Come back next week for a tutorial on how to install bi-fold closet doors! Installation was simple and Mike will show you how it's done!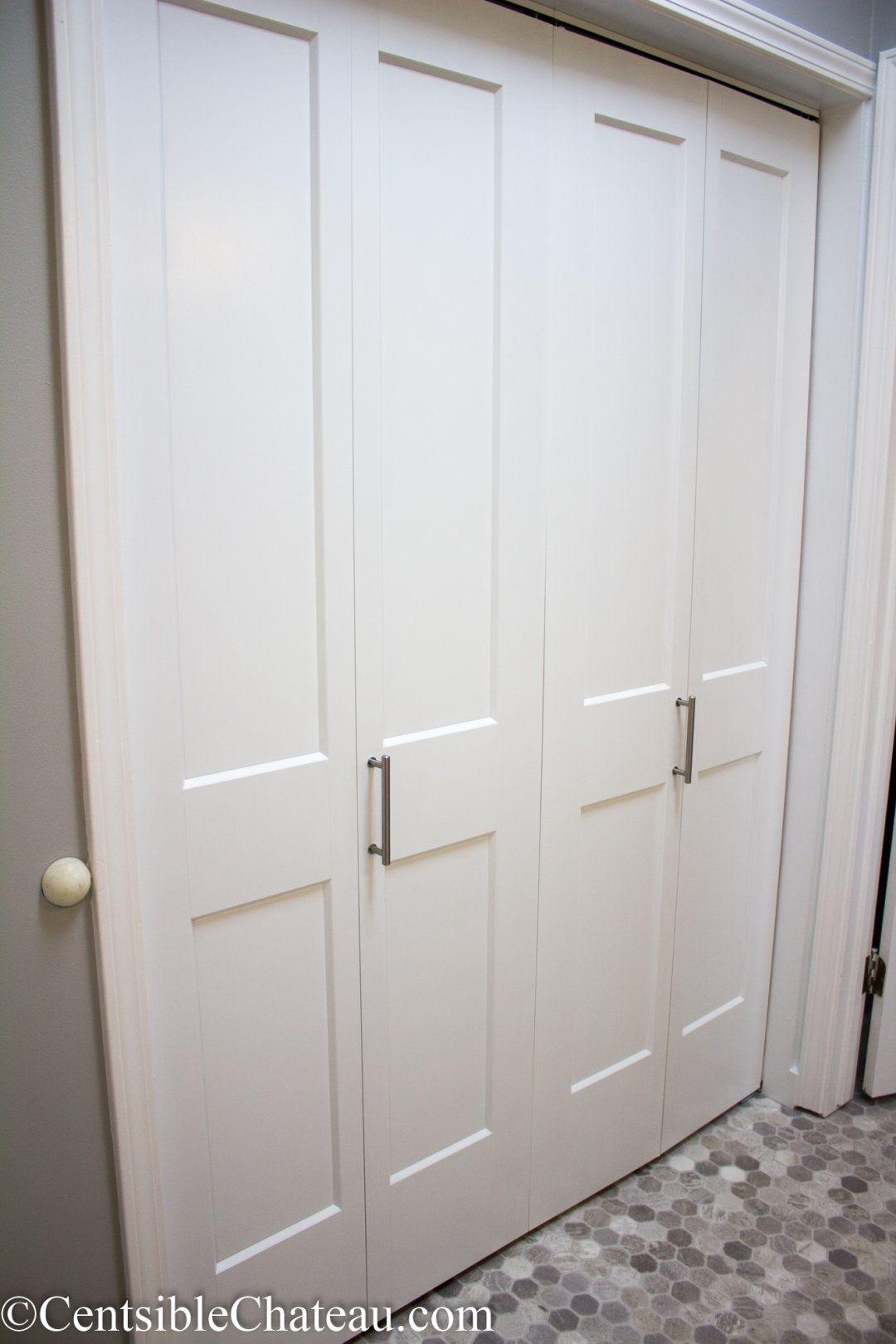 We achieved all of my closet makeover goals with this project. I feel like everything has a home now instead of just being thrown into a closet that doesn't make sense. Thanks for visiting, let us know in the comments what you think of the transformation!
Inspiration in your Inbox!
Sign up for our newsletter here!
We'll send DIY décor and design ideas right to your mailbox